Langham Spray Park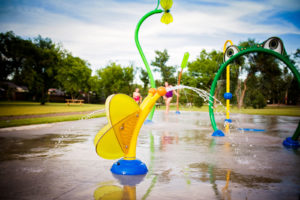 Beat the heat at the Langham Spray Park. The splash pad is located in Community Park and is surrounded by picnic tables, a swing set, and is beautifully landscaped. Depending on the weather and management, the Spray Park is open June – September from 10 am-8 pm.
Langham Days – June 17, 2023   List of Events
Our annual Langham Days Celebration is typically held the third weekend in June. It is a chance for the people of Langham to get out into the sunshine, enjoy the Summer with their neighbors and be entertained. Typical Langham Days activities include: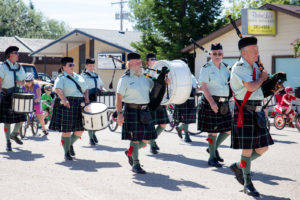 Pancake Breakfast
Main Street Parade
Wildwest Autobody Show & Shine
Live Music
Museum Tours / Homemade Pie Sale
Langham Branch Library Book , Hot Dog & Hamburger Sale
Kids Activities (face painting, bouncy castles, reptile show, etc.)
Slo Pitch and Volleyball Tournament/Beer Gardens
Fireworks 
Ecumenical Church Service 
The Town of Langham strives to improve and add to the activities offered during our Langham Days Celebration. If family, company or individuals would like to sponsor an event to help us grow the celebration, please feel free to contact the Town Office.
River Ridge Trails – alltrails.com 
River Ridge Trails is the former home of a nine hole golf course, and since 2019 planning and development has been underway to transform this land into a multi-use trail network catering to multiple summer and winter trail sport users. The site boasts beautiful views of the North Saskatchewan River for users to enjoy, whether they are out for a leisurely walk, or looking for some higher intensity running, biking, or skiing. 
Our trails and open space are open year round for both Winter and Summer enjoyment.
River Ridge Trails are located just North of Langham, Saskatchewan.
– Take Hwy 16 (Yellowhead) to Langham.
– Head North on Park Avenue/Range Road 3074 for 4km.
– Turn left onto Township Road 395, Signs for River Ridge Trails, and follow to end (1.5km).
Parking and entrance to park on the left.


Horse Boarding/Indoor Riding
River Trail Ranch
P.O. Box 200
Langham Saskatchewan S0K 2L0
Call: 306-254-2754 | Email: info@rivertrailranch.com 
Langham and District Heritage Village and Museum
The Museum summer season opens from the May long weekend to the September long weekend. Transform yourself back in time and visit the Railway Station. Peruse your way through the extensive collection inside and out in the yard. Experience farm and town life in the early years of Langham!
For more information about the Museum and rentals visit our website and/or Facebook page 


Langham Branch Library
The Library runs a summer reading program each year with various themes, games, contests and events.
For more information about our our library and be transported to new and exciting places and adventures visit our Facebook page
---
Fall Activities
Fall Classic Slo Pitch Tournament
Our annual Langham Fall Classic Slo Pitch Tournament is held by the Slo Pitch League Committee in efforts to raise money for improvements to the Sports Grounds. It is typically held the weekend after the Labour Day Long weekend in September. For more information on the league or tournaments, please contact: langhamslopitch@gmail.com
Passport to Langham
This event is typically held the Thursday after the September Long Weekend. It showcases churches, service clubs, organizations, sports, schools, museums, libraries, cultural activities, and much more available to the residents of the Town of Langham and surrounding area. Visit Passport to Langham and "Discover What Langham Has To Offer!" Please see the events calendar for this year's date!
Fowl suppers in Langham date back to the 40's and 50's. But at that time, there were several individual churches that held their own. The Legion Hall (where the 8 plex is now) was the in town location for many years. It steadily grew in attendance and for at least one year the Fowl supper was held in both the Legion Hall and the Skating Rink Lobby. When the Langham Community Hall was built, the Hall Board held the Fowl Suppers as a fund raiser for the hall. When the Hall Board was dissolved, the Recreation Department and several churches in Langham and area took over the planning. Currently the Fowl Supper is held the last Sunday of October. It boasts one of the best meals held in the area, people attend from Warman, Martensville, Saskatoon, Dalmeny, Borden and Radisson. The menu is always Turkey and all the fixings including pie for dessert. All of which is donated by the generous people of Langham. Donations are accepted from Corporate and private citizens to pay for the Turkeys, but local families donate the time and energy to cook those delicious birds! Recently added is a "takeout" feature where people who are not able to stay, may take their meal home with them in a takeout container provided by the Fowl Supper Committee. The Fowl Supper is a great opportunity to sit and visit with your neighbors and friends of Langham and surrounding area! Please see the calendar of events for the Fowl Supper date for this year!
For more information or to volunteer please call the Town Office at (306) 283-4842.
---
Winter Activities
Affinity Community Hall, 120 Railway Street – Map 
November 25, 2023 | 9AM – 3PM 
Each year the community of Langham hosts a successful market for all your holiday needs!
This year's market includes Hot Lunch & Treats, Family Photos (available on site) 
Vendors Include; locally make crafts, jewelry, baking and treats,. Household goods, beauty products and much more!
October to March
Pubic Skating for the 2023-2024 season begins October 10th and operates until the end of March. The public skating times are as follows: 
Sundays:  4:30pm – 5:30pm
Tuesdays: 3:30pm – 4:30pm
Thursdays: 3:30pm – 4:30pm
February Break Public Skating Hours:
February 20th – 23rd (Tuesday – Friday) 3:30pm-4:30pm
Registration Dates September 6 – December 31, 2022
Season Pass/ Club Membership
Membership includes unlimited skiing, fatbiking, discount on rentals and snowshoeing at River Ridge Trails
$45 Adult – Ski, Bike & Snowshoe**
$25 Youth – Ski, Bike & Snowshoe**
$35 Associate*
$120 Family – Ski, Bike & Snowshoe** Includes (2 adults2 youth under 18) Additional family members beyond 4 people – $15 per person
riverridgenordic@gmail.com     www.riverridgenordic.com